Boat Launch & Parks
Boating
Boaters wishing to access the Columbia River may do so using the Port's boat ramp at Marina Park and the associated boat trailer parking area. All recreation users should remember to take care when playing in the Columbia River, be courteous to other users, and watch out for pilings, drift nets (during fishing season), and barge traffic.
For information on the Port's development and upkeep of boating facilities, please refer to the Marina Park/Recreation Plan Timeline.
Bingen Boat Ramp
Operating Hours: Dawn to dusk – daily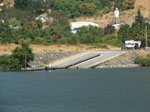 The Port of Klickitat owns the Bingen Boat Ramp and provides basic boating facilities. These include a two-ramp boat launch, restrooms, and a parking area for boat trailers. To see more of the Bingen Marina, take the virtual tour.
Learn about clean, green boating from the Washington Department of Ecology. Find out about laws, boat washing, fueling, bilge care, sewage and other important boating-related information. A Clean Boating Guide is also available and includes the U.S. Coast Guard's recommended best practices.
The following rules have been adopted by the Port Commission to ensure that everyone who visits and utilizes the Port's boating facilities has a pleasant experience.
Do not block boat ramps
No overnight moorage or achorage
No overnight parking
No swimming
No littering
Do not dump/empty waste into harbor
No wake (5 mph zone)
Decontaminate watercraft after removal